Meadow Town dresses u...
Happy Halloween from Meadow Town...
1
Special Promotion for...
Book your appointment today to receive $40 off teeth bleaching or receive FREE teeth bleaching with...
2
We Can Help You!
Meadowtown Dental offers a full range of modern dental procedures to meet your every oral health...
3
"Curabitur lectus felis, dapibus non, congue et ultrices et ipsum ultrices et ipsum Integer ligula sed dolor purus"
Meadowtown Dental, A New Dental Team Bringing Smiles to Pitt Meadows Families
There's a new Dental Team in Pitt Meadows, and they are determined to bring a breath or fresh air and community values to local residents.

Meadowtown Dental Centre, located in Meadowtown Mall by Real Canadian Superstore, offers families the best of general and cosmetic dentistry combined with state of the art solutions.
Delivering Excellence
Dr. Junho Kim and his expert team is building the dental practice on the promises of personalized treatment, relaxing dentistry, quality work, responsive communication, frequent availability and patient inclusiveness. Dr. Junho Kim's team works closely with patients to define their needs, plan their treatments, and deliver outstanding results.
Dental patients In Pitt Meadows are already taking notice and telling their friends and family about the gratifying service and superior health results they experience at Meadowtown Dental Centre.
Celebratlng Community
Meadowtown Dental Centre is looking forward to participating in community events and getting to know more local friends and neighbours. The practice is a GOLD Sponsor for Pitt Meadows Day this year and is always happy to receive members of the public who visit the office to say hello or to book a dental consultation.
Dr. Junho Kim and his team is accepting new patients – book now
Our Hours
:

-

:

-

:

-

:

-

:

-

:

-

:

Closed
Social Media
Proud Partners
123 Dentist Promotions
From 123 Dentist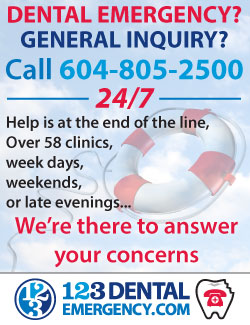 Bookmark this site and keep handy for your next dental emergency.